This project is not completed yet - Last update: January 12, 2014




So, it all began one day when i was trying to reflow with my hot-air gun one QFN chip and i tried to go by the book. I used the contactless IR thermometer to measure the temperature in various distances. It was not hard, but it was BORING, boring to death. Sitting there with this thing in hands for 6 to 7 minutes.... Kill me.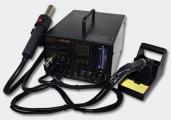 This is the Aoyue 968. The hot-air works fine. But the soldering iron that comes with this station is literally a piece of junk! Just get the plain hot-air station and NEVER get the Aoyue soldering iron.

And BTW: The hot-air gun that i have is a cheap AOYUE 968. I'm rather pleased from the hot-air performance. The temperature is quite stable (measured with my Extech contactless IR thermometer) and the air flow is controllable within a wide range. The air pump is kinda noisy though but i use it little bellow it starts the high chords, so that is not a big problem.
-BUT- ATTENTION ATTENTION The 968 series comes with a built in temperature controlled soldering iron. I can only describe it with 3 words: Useless piece of junk. It is so bad, so utterly and totally rubbish that i plan to make a review on this soldering station to save others from buying this thing.

This experience was enough for me to start this design. I will be using plywood for the base material as its my favorite type of wood - Its strong, its light, screwing on its sides won't cause problems, and has a nice finish as well. You get all these nice features at a higher cost though, but hey! How many times will i make such a tool?



The Basic Idea
---
Usually I spend more time in 3D modelling before I go front of the workbench. But this time i only designed a basic model only to get an idea of the dimensions of the wood pieces:





As you see there is no motor or driving mechanism. I will fit them during the making. So, with no further ado, let's see the make of...



Starting with the Plywood
---
Four pieces is all it takes to make the frame of the NC. And BTW, an NC machine is the same as a CNC without the leading C. CNC stands for "Computer Numerical Control" and NC stands for just "Numerical Control". My device will follow "numbers" to go into specific positions, but there is n o computer or CAD/CAM software whatsoever, so it is an NC machine...



The pieces are all 15mm thick:
130mm x 100mm
130mm x 80mm
130mm x 220mm
130mm x 170mm
I use a 30mm drill to drill a semi-circle (pocket) at the edge of the 130x80 piece. This is where the hot-air gun will fit
I grind the pocket a bit more until the hot-air gun handle fits snugly.




The hot-air gun handle must fit snugly into this pocket: This is the idea:



Now let's finish the base. The 130x80 piece with the pocket is screwed on the surface of the 130x100 piece:

| | | | |
| --- | --- | --- | --- |
| | | | |
| When screwing wooden parts together, always remember to drill 3mm on one part | Its always a good idea to use glue | 3,5 x 30 chipboard screws are perfect | Looks stable to me! |




The Linear Guides
---
The guides will allow the carriage (hot-air gun base) to move up and down. The guides will be fixed on the back support, that is the 130x220 piece. I will use simple drawer guides which are perfect for the job and dead-cheap.


| | | | |
| --- | --- | --- | --- |
| | | | |
| These drawer guides are perfect and cheap! | But first i have to trim them to size | That's about 10mm shorter than the base | Important: File the edges! |


With a pair of pliers i had to "bend" the edges of the guide pieces. This way they will not break apart.


And something else that is important:

| | | |
| --- | --- | --- |
| | | |
| Do you notice the ball bearing carriage inside the guides? They are not properly aligned... | So if you extend them to full stroke, they will not have the same length. | With the pliers i had to "align" the ball bearings so that when the guides are retracted the bearings are in the middle of the rails. |
Click here to go to page 2 and see the rest of the make
---
Comments
---
Wow actually your website has an amazing list of products you are quite the enthusiast to be honest I am very impressed with your work!

As a first time viewer I have this website bookmarked!

Yes I agree you do provide solutions many of them actually. This solution in some ways is superior to my first incantation of an adjustable holder mine was simply going to be threaded rod with a base plate two nuts and washers with a metal tube between them and a set screw to fix the axis to keep it steady from rotation I may still do this to allow for 360 degree range of movement it will be very cheap dirty and simplistic by no means will it be a Cadillac either.

by the way my website is http://www.mopowah.com I have zero members really and I am not worried the least by it eventually I will contain enough content for anyone to deem worthy but I have a vision that just seldom works in principal for my web forum is expansive I do not focus on one area or niche. This most often always results in failure. I would like to will everyone to think outside of the box and be a little less niche based.

The #1 reason behind this theory to collaberate rather than focus on a singular effort is because all great breakthroughs are resultant on ideas from all different topics. There was a discovery channel show that aired showing some of these connections to educate the public on this very thing I was hoping that the idiot box would educate them enough to derive the same conclusion and become a member of my more expansive forum while it has not worked out I presume that with continued effort it will be a birthing ground for great ideas I continue to invest my time and my money every month in hopes that some day that I can operate solely on donations from my many members and possibly amazon based links that are hand inserted and 100% topic related.
---
@infringer Hello! Criticism is always welcomed. I began this project to do some of my jobs easier. Meanwhile, i expect for my 3D printer which will change the face of this site radically if you know what i mean. All of my projects aim to give ideas and not 100% solutions. Why? simply because a creative mind needs only ideas to create solutions. Nevertheless you have a point here, it could be more universal.
And of course you can post it in your site (which is???). Remember to add those links to this page ;)
---
I love the project I have the Chinese model of this hot air station along with a digital thermometer I have been looking for a way to do exactly what you are doing right now. However I do have some reservations to this work the motor is one of these reservations or modifications with it being free mount is it not possible to do say a belt drive or chain drive to provide lift?, I would likely shield all wood with aluminum foil tape,also is there a way to mount the slides on the back and the motor on the back to keep them sealed from heat as the lubricants would easily dry up after the heat is applied in the locality of the unit this to me is important. I would also like to see better thought to go into making this a more universal project. Three things to me that make this project not so universal are, The fact that the fastening rings are not universal this is extremely important for open source developments I suppose it is semi adaptable with different sized clamps but, something that is there that you adjust would be much better for a final build not to insinuate that this was a final build or bad build it is just friendly criticism. Another thing is the extension of the gun away from the frame no two boards are alike for them larger boards it is important that there is ample distance from the frame to allow at the very least an EATX Motherboard for instance maybe a bit more to be safe to fix some PCB's for things like HVAC type stuff or homebrew boards where people are just starting off and really prefer space between their components for optimal understanding due to improved visualization. Finally I would like to see a universal and adjustable mounting system for a digital thermometer or an IR thermometer (While in my case I have found IR based thermometers to be inaccurate on measuring chip surface temps due to reflections or something on a metal surface one could estimate or approximate the temperatures but at times it seems if your results are null when attempting a reflow at proper temps. After enough money invested in IR I suggest digital thermometers as the way forward for reflow.

I would love to reflect and assure you of one thing it is much easier to be the critic than the builder but a critic whether it is self induced or not will most often result in major improvements in any project.

Finally this project to me is a 7 of 10 stars all improvements included or aside it is an excellent project I would love to have permission to have rights to this information to post it on my website if possible.
---
@Stephen Leister is not near the top quality manufacturers in EU, its (according to my know,ledge and experience) THE top manufacturer. Which has also not nearly the highest price, but THE highest price. I repaired once a 1400W triac-less heater. Had a dead heating element (it works in a factory 24/7 and the air intake was stuck). The price of the heater was more expensive than half the price of the whole aoyue 968. If you know what I mean...
When business runs like the river, i will equip my lab with expensive tools. But the first expensive tool will be the multimeter (check) and the oscilloscope (comming up next).
---
Hello Giorgos,
I have no idea how this unit fares price wise against the heat gun you are currently using but should you ever plan to buy another, this is the One... the Leister Hot Jet S with 5mm nozzle. I have used this product since 1994 [not the same unit] for all SMD Development and Rework including PLCC [up to PLCC84] and QFP [up to QFP208] devices . I highly recommend this excellent and highly reliable product. No, I don't work for them... He He...
All the best
Stephen

Das Link:
http://www.leister.com/en/plastic-welding-product.html?catalog=1b301b71-fc43-4641-8ef0-506387c3ebfd&subcatalog=&product=f33197fc-95bd-4f1c-a2ae-feefd0862466&view=sparepart

HOT in heaven!